One of the most common and easy linkbuilding methods available to everyone is blog commenting.
Win-Win
Commenting in a blog requires you to think and to read the article and perhaps the previous comments. In exchange, you can get a very valuable backlink.
Old school?
There are lots and lots of blogs out there in the web. I'm sure that almost all niches have a blog now. Blogs are in fact, a necessity when it comes to effective and communicative internet marketing.
And almost all blogs have comments allowed because it displays the nature of their readers and the effectivity of the blog author as he moves his audience to say what they have in mind.
How do you do it?
There's always a place to put your Name, Email and Website in a blog entry before every comment area. It looks like this:
Fill in the details and post your comment. If and when you do, what usually happens is that your name becomes a link back to your website.
What NOT to do
Sometimes people put an extra link inside the comment and/or make their name their keywords – don't do it!
Why? Well because it looks spammy and unless you are a trusted and frequent commenter in the blog, the blog owner will mark it as spam or will look down on you and edit your comment anyway.
What you need to know
Some blogs are not dofollow. Meaning the links that they give you as a commenter are nofollow links.
You should also take note of commentluv blogs – these blogs are one of the best places to comment for a backlink on. The commentluv plugin gives you a specific backlink to your latest article with your article title as anchor text.
In the long run, your goal is to build a relationship with the blogs that you are commenting in – not merely for the backlinks but for the community.
Sincerely,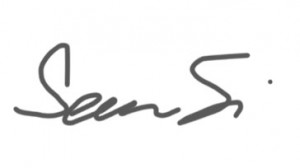 Sean Patrick Si
SEO Hacker Founder and SEO Specialist