"Content is King" – ever heard that phrase before? It's a very rampant saying in the internet world. While some may argue that this is not anymore true, I believe otherwise.
My Weapon of Choice
SEO Copywriting is one of the most sought-after art in the internet. It is a difficult skill to master. It is also very tedious. From creation, to interlinking, to editing, proofreading, content optimization and copywriting – all in one.
The pen is mightier than the sword…
But the pen definitely can't make you as filthy rich as the keyboard can. Good SEO copywriters can charge you 0.11 USD per word – and that's the minimum. Yep, I know. You want "IN"
Ka-Ching!
I love writing. I wanted to be a creative writer and take up creative writing in college. Unfortunately, my parents didn't think there was any money there. And they were right – you can't get rich in creative writing so I took up Information and Communications Technology Management. In english, IT.
To make the long story short, I'm now an SEO Specialist who has a knack for copywriting. Writing is my passion. And now it has become my bread and butter… And Jelly.
Oh hey, there's money in writing after-all!
Copywriting, that is.


Writing? I thought this chapter was about on-site optimization…
Why is SEO Copywriting included in the on-site optimization chapter? Simple. SEO Copywriting is all about the On-site optimization of content.
Remember Keyword density? It's applied here.
Remember Interlinking? It's applied here.
Citing link sources is also applied here – with NoFollow attributes to keep Google juice to yourself.
Good Title tags? Check.
Slugs? Yep, it's applied here.
So as you can see, SEO Copywriting is all about writing great, quality content with all the on-site optimization effects applied. Scribe SEO makes it much easier for you to do it – but you have to shell out some cash to employ this online tool. I do recommend it though. It automates content optimization which otherwise take a lot of my time.
Teaching you how to write is another thing – it's not really included in this SEO course. But I'll give you a head-start. Download this "How to Write Compelling Content that Ranks well in Search Engines" SEO Copywriting Report by Brian Clark of Copyblogger and I assure you, after you read it, you'll get a better grasp of how SEO Copywriting should be.
Sincerely,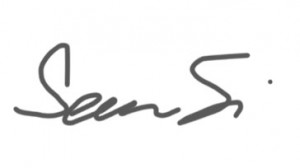 Sean Patrick Si
SEO Hacker Founder and SEO Specialist