In the beginning of 2012 Google started sending out webmaster notification messages to reportedly 700,000 webmasters all around the world. A lot of these were about "artificial or unnatural links".
Note from the Webmaster: This is a Guest post from Rankpanel's Director, Alexander Puschilov. I think Rankpanel is one of those new tools that might just make it big  – especially with the Google Penguin (over optimization) update.
The notices seem to be related to some new search quality system in place, which renders certain link building techniques no longer viable. Patrick Altoft from branded3.com puts it well, when saying that the major difference between this recent update and previous ones is that this one penalizes the SEO strategy used. In the Rankpanel data set, we started noticing the first major impact on a large number of sites in the week ending March 18, 2012.
What are these artificial or unnatural links
Google is somewhat fuzzy on this in their quality guidelines. While paid links and excessive link exchanges are explicitly singled out, other sorts of successful link building techniques such as giveaways, widget strategies, reviews, guest blogging, etc. have in the past been seen triggering penalties as well, especially when some domain had excessively overreached using them.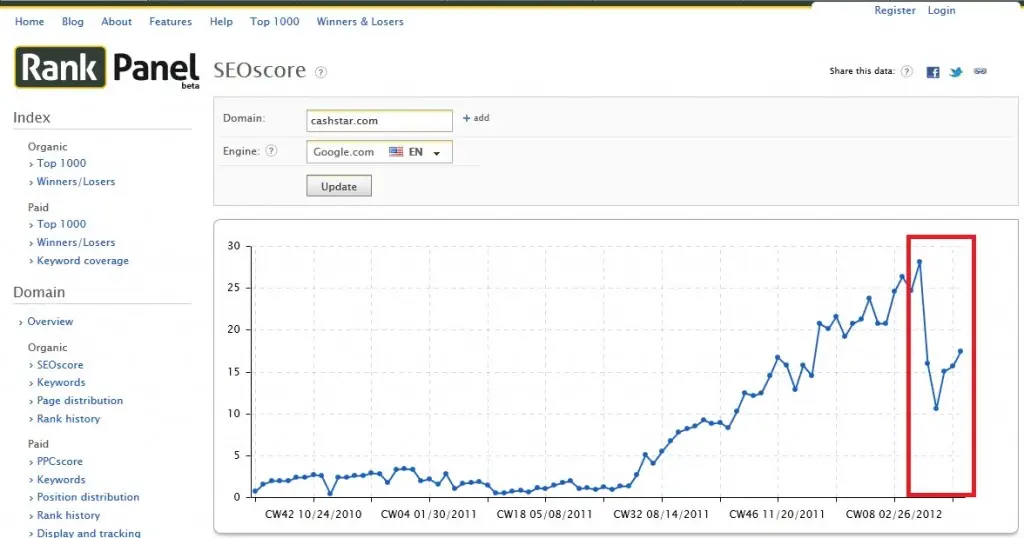 From our analysis of the "over optimization penalty", it seem as if a lot of sites that have been created for the sole purpose of link building have seen their outgoing links devalued and domains penalized – some have even been de-indexed. Some sites with lots of links from free hosts, forums, directories, and comments seem to have been neutered as well. As a result even some big brand players have lost a significant number of rankings, while some smaller ones have even seen their rankings tank across the board (see screenshot above).
The common theme with these build-for-link-building sites – even if they are well designed and offer decent quality content editorial – seems to be a combination of
– a high concentration of commercial anchor text outgoing links,
– an unusually high ratio of content with commercial intent outgoing links relative to articles without links or with non-commercial targets
– link cliques to targets that co-occur on lots of other sites.
Detecting affected sites with Rankpanel
Rankpanel is calculating a metric called SEOscore for every domain every week. This metric indicates the overall algorithmic standing of a domain in a search engine across all rankings weighted for the different volumes and ranking positions. With the SEOscore history, it is easy to spot some domains that have seen their SEOscore tank by a significant proportion starting March 11.
For illustration purposes I'd like to list three examples from different countries: In the US, I believe cashstar.com fell victim to this penalty, in the UK, myvouchercodes.co.uk, and in Germany zalando.de. None of them seem to have fully recovered since.
With the help of our organic keyword tool we can grab the rankings for the week of March 18 and the current week. With a little bit of Excel magic we get the following rank change graph for cashstar.com, which is basically a detailed view of the change in page distribution.

We see that most rankings fell and some disappeared altogether. Now opinions vary if this was an actual penalty or just a devaluation of the "unnatural links ". Either way, the webmaster certainly lost some valuable traffic. We will follow up with these websites in a few weeks.
Getting out of the over-optimization penalty
If you were adversely affected by the recent changes or worry about some of substandard links to your site, Shaun has a great post on what you can do. On a side note, this article mentions an interesting moral hazard risk that is created by the whole potential negative SEO issue: When a blog can hurt a domain by linking to it and domain holders are willing to pay for link removal then there is risk of blackmail.
If you haven't been affected – great! Make sure you keep on building your high quality site, because further anti-spam changes will keep coming.
But aren't you outing guys?
No, I'm not outing people. With open and free tools such as Rankpanel everybody has access to this data. As these things have already happened we are only observing and commenting on things from the past. This is also done in a purely neutral way, like saying that a company's share price lost on the stock market.
About Rankpanel
Rankpanel offers detailed insights into SEO for free. We have built our tool to give enterprise level analysis capabilities to everybody. In order to achieve this goal we analyze a large set of keywords every week for six countries (US, UK, Germany, France, Spain, Italy) and also give you access to past data going back up to two years. We present it in an uncluttered and fast fashion making Rankpanel really easy to work with. Additionally as you can see, all our reports are social and can be shared with everyone. Please check us out (we don't ask for credit card details) and let me know what you think (be kind we're still in beta :)).