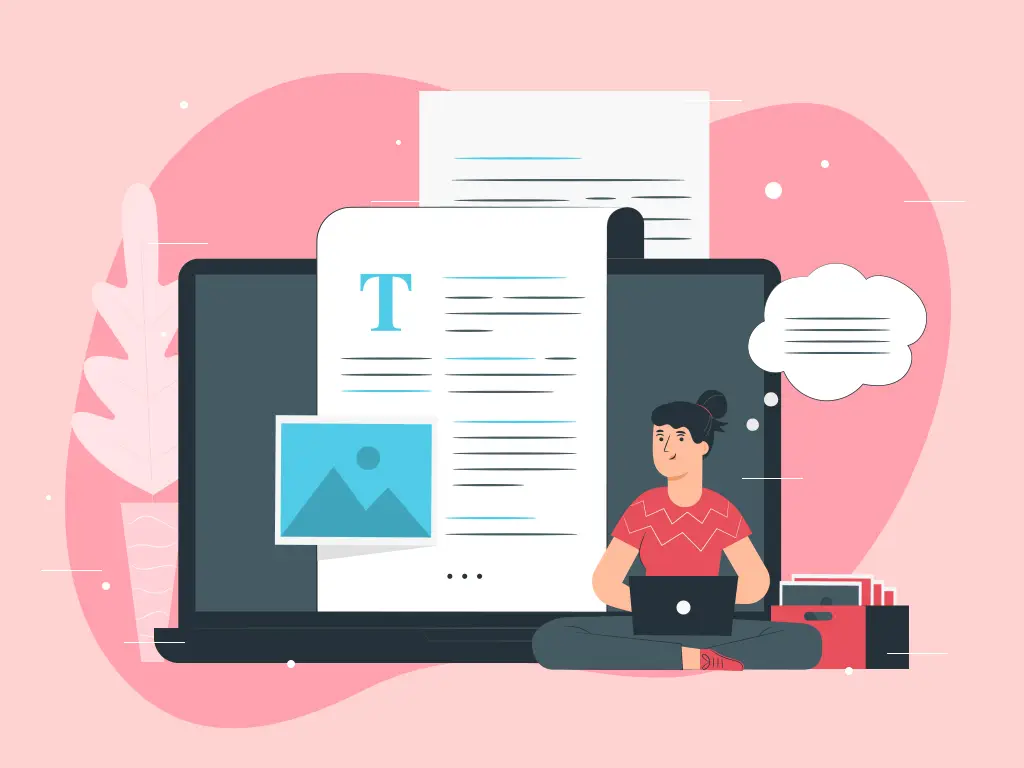 Guest posts are often an essential part of any SEOs link building strategy. Aside from contributing and establishing a connection with other webmasters, it enables us to improve awareness of our brand (depending on the content we write) and naturally gain a link back to our website. Even though guest posting is one of the well-known, quality link building tactics, as the years went by Google started to lay down rules and guidelines regarding proper implementation of guest posts that still hold up to today. So, here's what you need to know about guest posts this 2020 here!
Guest Post Guidelines
Guest blogging and posting started for a good purpose – webmasters contributing to another webmaster's website, providing quality content that helps their visitors learn, read, and take more value. However, much like what happened with effective and well-known SEO tactics, it was abused and Google had to crack down on people that intend to play their system. So, here are some things that Google released through the years:
Links inside a paid guest post should be nofollow

Guest blogging networks are spammy and have high chances of resulting in a penalty

Links inside a naturally contributed guest post should be nofollow as well

Guest posts made solely for building links is not advised by Google

Websites accept guest posts are susceptible to manual action penalties for having unnatural or irrelevant links that could be counted as trying to artificially affect another site's rankings
Here are some resources where Google representatives talk about Guest Posting or blogging:
John Mueller's 2017 recommendation for using your website to spread the "word" instead of guest posting for links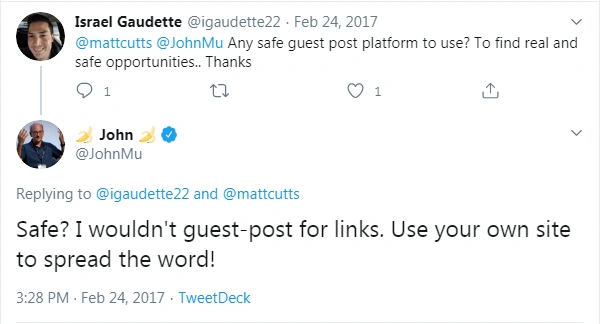 John Mueller's post regarding the problem with using guest posts for links.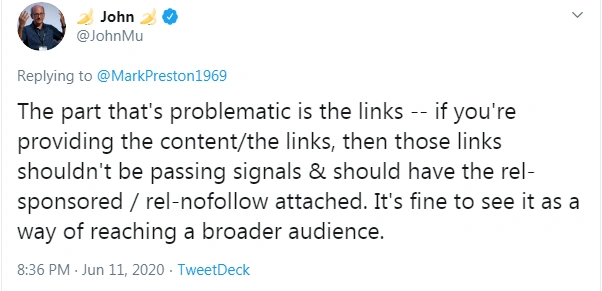 John Mueller reiterating that links within guest posts should be nofollowed
Take It With a Grain of Salt
I know that the guidelines sound like we shouldn't do any guest posts at all. However, I can tell you that we still use guest posting as a core strategy in our link building team and we never experienced a penalty. 
If we review Matt Cutts' video, even though it was uploaded in 2012, it still holds today with regards to guest posting being all about contributing high-quality articles on other websites. The link was originally intended as just a plus, but it was abused. So, we make use of what we can deliver. Our team can curate expertly written and high-quality articles that enable us to use guest posting as a strategy since we comb through numerous sources, research the subject intensively, and ensure that sources are cited and the facts are correct. 
With that said, I recommend taking what Google, or their representatives, have mentioned with a grain of salt. It's nice to listen to them, but it's also great for webmasters and SEOs to check what works and what doesn't. If we base it on all their statements, then we shouldn't be using guest posts as a dependable tactic. But we used our understanding of Google's guidelines, what's allowed and what isn't, and made sure that whatever we post on the internet can and will bring value to the users, and we're using guest posting – which shouldn't be a primary tactic for link building, as per Google – as one of our effective tactics.
Here's the thing: Google will always lay out guidelines and rules that we need to adhere to. And I suggest we listen. But we should listen attentively but never stop ourselves from finding out things on our own. Take things with a grain of salt and always try to experiment. With experimentation comes valuable strategies and tactics that can, hopefully, bring you to the top of the SERPs. Listening to what Google says adds value to your knowledge and wisdom which you will use to come up with better and more effective strategies. What do you think? Do guest posts still work for you? Comment it down below!